Any comments, suggestions or feedback are welcome! Please drop me a line
March 19th 2002
Updates on almost everypage, Black and White Photo's, Who's Who in DALLAS, Dallas Photo's, Linda Gray and Victoria Principal Photo Vaults, Magazines, Books, plus magazine articles, and a great photo spread in Vogue Magazine!!!! Much More to Come!!!!!!!!!!!!!!!!
February 2002
VICTORIA PRINCIPAL PHOTO VAULT
January 2002
-Dish Babies closes in LA! Due to incidents in New York, DISH BABIES will not be heading to New York at this time!

-Charlene wins a best supporting actress award for her work in DISH BABIES

-Charlene, along with DALLAS co-stars Steve Kanaly and Ken Kercheval attend an LA Autograh show, signing pictures and talking to fans.

-Charlene leaves her post at 'The Globe' (will provide more details when I know more)

-Charlene attends the opening of her new movie, Peroxide Blonde!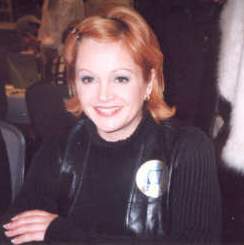 Charlene signing autographs January 2002
December 23rd
Updates on EVERY page, check them out!!!
For you screen caps lovers, another season will be added Christmas Day!!!
December 1st
A huge Happy Birthday to Charlene!
New pics on almost everypage! Thanks to D. Smith for providing many of the new pics on the Charlene 'Off the Set' Pages. Linda Gray gets her own link for even more pictures. Again, check out everywhere, Magazines, Other Projects, who's who, Knots Landing, and the rest of the site for more photo's and information.

For those of you writing about caps, I have hundreds more to add, and will be adding them very soon!
November 3rd
New pics and info on the Color Pictures Page, Knots Landing, Press, many many more magazine covers, and other Projects. Check out all the new pictures on the 'Match Game' page, there are some great pics of Charlene thanks to my buddy Ryan!!! Enjoy!
October 30th, 2001
Happy Halloween All!!! Trick or Treat!
New pics on almost every page, and new Pics (thanks to Thomas Vogt in the Color and Black and White pics pages) also new Who's who in DALLAS pics, and everywhere on the site!!!! ENJOY!!!!!!!!!!!!
Also: NEW: Victoria (Pam) has her own page of pics...check out her page on Who's, Who in DALLAS, and Linda Gray will follow soon...btw...you all know Linda is in London right now on the stage in The Graduate! Go Linda!!!!!
SEPTEMBER 2ND
More Pages are thumbnailed for easier viewing!!!
Who's Who in Dallas has begun with all characters having their owe pages to view!!!

Charlene is in a new play, headed to off Broadway, check out the link!!!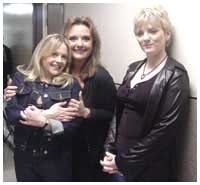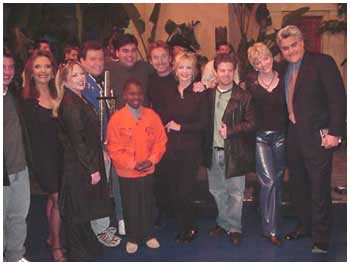 Charlene and her Tonight show 'Survivor' teamates. Jerry Mathers won the event, but Charlene came in a respectable third right behind The Brady Bunches Florence Henderson. This Survivor took place this past winter.